We're not buying it. Don't let anyone tell you that the resources don't exist to make our lives better. We have always had the money, they're just hoarding it.

Nothing is more powerful than organized workers. Through collective action, we will get the investments we deserve. https://t.co/vT9JhmR49h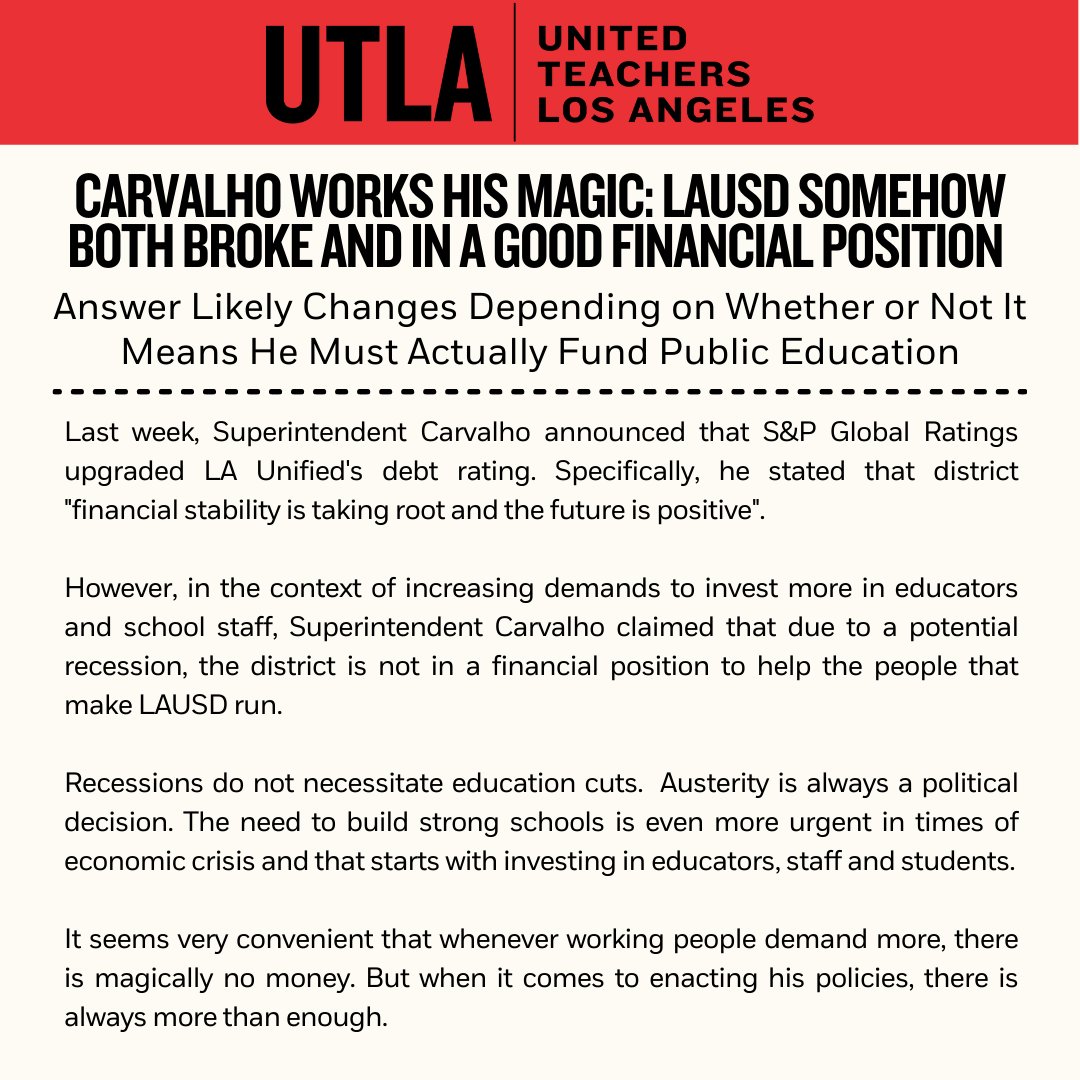 We're back at the table fighting for:
🧑‍🏫 Living Wage for Educators
🏫 Fully Staffed Schools
⬇️ Smaller Class Sizes
🎓 Fully Funding BSAP
💰 Closing the Special Ed funding gap

The district continues to reject our proposals. Nothing will stop us in fighting for what's right.
🔥 BREAKING: UTLA Board of Directors voted unanimously to support @SEIULocal99 if they go on strike 🔥 Our power as workers comes from our unity. Our fights are connected. We are proud to be in solidarity w/ @SEIULocal99 as they fight for a fair contract. https://t.co/kYcxL4hL1d
🗣️ Join us 1/31 to hear more about the Police Free LAUSD coalition's plan for redirecting all funding from the Los Angeles School Police Department to fully invest in community-based forms of safety & the holistic well being of all students. #SafeSchoolsLA https://t.co/OhsrT8SniL
🗣🗣🗣 CALLING ALL LAUSD STUDENTS & PARENTS

Help us identify the gaps in the district's implementation of BSAP https://t.co/ziC3GsxL18
2020: coalition led by Black students won funding to create a Black Student Achievement Plan w/ a focus on decriminalizing schools & adding learning & mental health support for students
2023: the district has not fully implemented many BSAP programs leaving the funding sitting https://t.co/BcfgAlqlqy