We are educators and we miss seeing our students in classrooms. But returning to schools without proper health and safety protections will expose our children and their families to COVID-19 and will put them at greater risk of illness and death. 
This pressure to return to LA public schools unsafely is political. It is not science.
Local and state officials have failed to create the necessary conditions for a safe return and are discounting LAUSD families, who are overwhelmingly low-income families of color, the group hit hardest by the virus. LAUSD is made up of 85% Latino and Black students. People in our school communities are dying at disproportionately higher rates and getting vaccinated at disproportionately lower rates. 
The COVID death rate among Latino residents in L.A. County remains triple the rate for white residents even as the recent surge recedes. Elected officials and so-called leaders are discounting the families that LAUSD serves, who are overwhelmingly low-income families of color. 
In spite of this political pressure to return, UTLA educators remain committed to create a safe environment in our schools and save lives.  Join us in demanding that Gov. Newsom and local officials provide the necessary health and safety conditions to return to our classrooms and schools safely.
#Makeitsafe #WeArePublicSchools  #UTLAstrong
"We are in this together, and together is how we get through the pandemic. Schools are the community so protect them. We should be protecting everyone; all workers, servers, grocery workers, nurses, teachers, parents and children."– Luis Mora, harbor area teacher
"We seek a safe environment in the schools. The virus has impacted the Black and Brown communities the most and a premature opening will negatively affect us. We say vaccinate teachers now. We reject GovernorNewsom's plan to reopen without this. The rich and primarily white politicians are pushing for reopening." – Jazmin Garcia, parent
"Reopening schools prematurely is irresponsible. As a teacher it would be my worst nightmare to learn a student contracted Covid 19 from my class. Especially if that student brought the virus home and their parents were hospitalized. We can only open when it is safe for everyone. " – Wade Kyle, 4th and 5th grade special education teacher
"As Black parents, we would love to send our kids back but campuses must be safe." – Jsane Tyler, parent
Safety of our school staff, our students, and their families
On Saturday, February 20, a 100-car caravan stretched through downtown Los Angeles sponsored by Students Deserve, Alliance of Californians for Community Empowerment, Los Angeles Alliance for New Economy, Eastside Padres Contra La Privatización, Reclaim Our Schools Los Angeles, United Teachers Los Angeles.
Stay In The Know
Collectively, we can win the safe return to schools that our students and community members deserve.
"Parents and educators face pressure on many sides as we engage in conversations on how to return safely to school campuses. Those conversations should happen with compassion and honesty."
⬇︎ https://t.co/6b92Pr7duN
"This vote signals that in these most trying times, our members will not accept a rushed return that would endanger the safety of educators, students, and families," UTLA President Cecily Myart-Cruz said. Read here: https://t.co/fD9YkzFju1 https://t.co/WKE2ttqL2F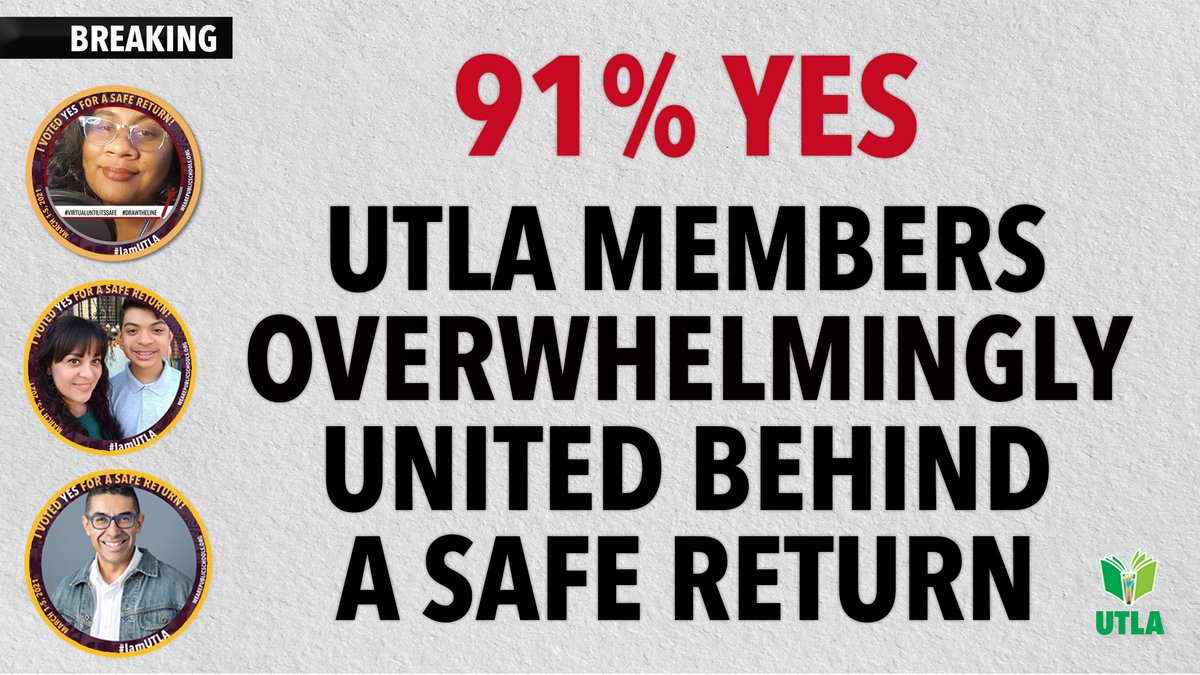 "Todos queremos que nuestros hijos regresen a las escuelas. Pero no en este momento, porque no son seguras." Las escuelas no deben reabrir hasta que se establezcan medidas de seguridad que puedan garantizar el bienestar de TODOS los estudiantes y sus familias y comunidades. https://t.co/MK8EcKaqDG
"We haven't been heard when we've been saying that it's not safe for our students to return back to classrooms. Our schools are not ready to reopen... we don't have the staff to do what we need to do to keep our students safe." Read the report: https://t.co/KPSQr4Hlgo https://t.co/58G0sCeqFL
"...stories about it's parents against teachers. That simply is not true. Parents like myself and other members of @ReclaimLASchls have been working hand in hand with our teachers to keep our schools closed and to open only when it's safe to do so."
https://t.co/Ln2MEzDs9Z